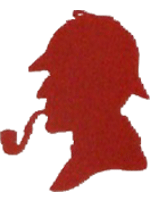 Sherlock Holmes
Sherlock Holmes is a fictional detective and the creation of the Scottish author Sir Arthur Conan Doyle. He first appeared in a publication in 1887 and is one of literature's most popular characters.
according to the stories, he was born on 6th January 1854 and lived at 221b Baker Street in London between 1881 - 1904 together with his friend Doctor Watson and his housekeeper Mrs Hudson.
Today, Sherlock Holmes has its own museum at Baker Street, the world's most famous address!