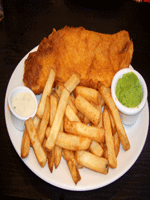 fish and chips
England's national dish is Fish and Chips.
This meal became popular in the 1860's when railways started to bring fresh fish directly from the east coast to the cities over night.
The fish, mostly cod or haddock, is deep fried in a batter of flour and is eaten with chips. Sometimes it is also served with mushy peas.
In former times, the fish and chips were wrapped in newspaper and eaten with the fingers. These days, more hygienic paper is used as well as small wooden forks.
Mostly, fish and chips are bought at a fish and chips shop and not cooked at home.