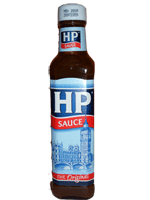 HP Sauce
HP sauce is a brown sauce – invented in England by Mr. Garton, a grocer in Nottingham, at the end of the 19th century. Its base is malt vinegar and is usually eaten with hot or cold savoury food. It is the most popular brown sauce in England. Mr. Garton called his sauce HP sauce; this stands for Houses of Parliament, because he had heard about a restaurant in the Houses of Parliament which had started to serve his sauce.
Later, he sold the recipe to Edwin Samson Moore, the owner of the Midland Vinegar company, for £ 150 because Mr. Moore offered him to cancel his dept with the company.
Nowadays, the HP Sauce is produced by H.J. Heinz in the Netherlands.