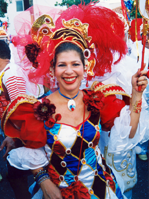 Notting Hill Carnival
Notting Hill Carnival is the biggest street festival in London. It is an annual event which takes place on the streets in Notting Hill.
Every year in August the Streets in Notting Hill are filled with parades, dancing, music, food and plenty of fun. The festival is very much influenced by the Caribbean culture so steel bands, samba, soca and calypso belong to this event.
Many people are every year attracted to this peaceful carnival.